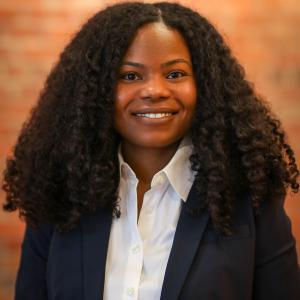 Director, Preclinical Translation
Contact Information:
Dr. LaTonya D. Williams is the Director of Preclinical Translation within the Duke Center for Human Systems Immunology (CHSI) Laboratory, led by Dr. Georgia Tomaras, in the Department of Surgery at Duke University School of Medicine.  Dr. Williams leads a team of scientists evaluating the immunogenicity and efficacy of promising candidate HIV or SIV vaccines in non-human primates (NHP) to inform HIV vaccine development as part of Duke's Primate AIDS Vaccine Evaluation Group (PAVEG), supported by the National Institutes of Health (NIH)-funded NHP Immunology Core Laboratory contract.  Dr. Williams directs the design and implementation of experiments to robustly quantify vaccine-elicited antibody responses in serum, plasma, and mucosal specimens using high information content binding antibody multiplex assays, peptide microarrays, and immunological assays to evaluate Fc-mediated antibody effector functions.  Prior to this leadership role, Dr. Williams served as a senior scientist within the Tomaras Laboratory leading the development and validation of binding antibody multiplex assays to assess HIV-1 vaccine candidates in pre-clinical and clinical phases of development, after completing a postdoctoral research fellowship at the Duke Human Vaccine Institute.  Her major research interests are:  elucidating mechanistic correlates of immune protection against HIV-1 acquisition, and engineering and development of antibody-based molecules for the prevention and treatment of HIV-1 infection.  Dr. Williams earned a PhD in Microbiology from the University of Alabama at Birmingham.